---
Vitamin D Insufficiency Prior to Paediatric Liver Transplantation Is Associated with Early T-Cell Mediated Rejection
Children (Basel). 2021 Jul 20;8(7):612. doi: 10.3390/children8070612.
Nathalie M Rock 1, Elisa Anghileri 1 2, Vladimir L Cousin 1 3, Laetitia-Marie Petit 1, Valérie A McLin 1
Objectives: T-cell mediated rejection (TCMR) can compromise long-term liver allograft survival. The immunomodulatory properties of vitamin D are increasingly recognized. We investigated whether perturbations in vitamin D metabolism prior to LT may predispose to TCMR in a representative cohort of paediatric LT recipients.
Methods: In this retrospective single-center study of children who underwent liver transplantation between 2005 and 2017, we collected serum 25(OH) vitamin D levels and other parameters related to vitamin D metabolism. Post-transplant variables were collected from medical records during the first year following LT.
Results: Eighty-two patients were included. Twenty-six (32%) developed TCMR, 52 (65%) presented at least one event of 25(OH) D insufficiency during the year before the transplant, while 23 (32%) had at least one documented elevated plasma parathyroid hormone level. Forty-six patients benefited from nutritional support (56%). The development of TCMR was associated with vitamin D insufficiency pre-LT (p = 0.01). No significant correlations were identified between PTH levels and incidence of TCMR. The association was stronger in patients transplanted for cholestatic diseases (p = 0.004).
Conclusions: Vitamin D insufficiency before a liver transplant may be associated with TCMR during the first year post-LT. These findings warrant further investigation.
&nbspDownload the PDF from VitaminDWiki
---
VitaminDWiki pages containing TRANSPLANT in title (32 as of April 2022)
| Title | | Modified |
| --- | --- | --- |
| Fracture 4X less likely following kidney transplant if high-dose Vitamin D (100,000 every 2 weeks) – RCT Jan 2023 | | 25 Jan, 2023 |
| Fecal transplant from young reduced age-associated defects in old (mice so far) – Aug 2021 | | 27 Aug, 2021 |
| Liver transplants in children more likely to be rejected if insufficient vitamin D – Aug 2021 | | 07 Aug, 2021 |
| Very low Vitamin D levels after Liver transplant in children (need Calcitriol or topical) – May 2021 | | 03 Jun, 2021 |
| Kidney transplant rejection 1.8X more likely if low vitamin D – May 2021 | | 22 May, 2021 |
| 1,000 IU of vitamin D provides little benefit (Kidney transplant in this case) – April 2021 | | 22 Apr, 2021 |
| Vitamin D helps organ transplant | | 24 Mar, 2021 |
| Organ Transplant patients probably need more UV and or vitamin D April 2010 | | 24 Mar, 2021 |
| If you are getting a lung transplant you must have vitamin D - April 2012 | | 24 Mar, 2021 |
| Omega-3 reduced pancreas transplant failure by 3X and sepsis by 2X – review Dec 2019 | | 18 Dec, 2019 |
| Stem cell transplant (HSCT) patients are dying due to lack of vitamin D – Oct 2019 | | 28 Oct, 2019 |
| Stem Cell Transplants consume vitamin D – July 2011 | | 23 Oct, 2019 |
| Stem cell transplant (HSCT). death 28 percent less likely for each 10ng higher vitamin D level – Oct 2019 | | 23 Oct, 2019 |
| Fecal transplants could prevent 12,000 C.difficile deaths a year, but one person died, so lets wait – July 2019 | | 01 Aug, 2019 |
| 4X reduction in bone fractures following Kidney Transplant with monthly Vitamin D (100,000 IU) - RCT June 2019 | | 17 Jun, 2019 |
| Fecal transplants increased Vitamin D levels (germ-free mice) – March 2018 | | 29 Jun, 2018 |
| Liver transplant needs Vitamin D (actually semi-activated, not regular) – May 2017 | | 27 May, 2017 |
| Bone marrow transplant – like other traumas – lowers vitamin D levels – July 2011 | | 17 Apr, 2017 |
| Vitamin D may help after organ transplant – if can give enough – Jan 2011 | | 25 Mar, 2017 |
| 4X fewer malignancies after kidney transplant if got active vitamin D – Prospective Score Sept 2012 | | 25 Mar, 2017 |
| Kidney transplant patients advised to avoid the sun, then 90% have very low vitamin D levels – Sept 2012 | | 25 Mar, 2017 |
| Vitamin D and biophospates are needed after organ transplant – Aug 2011 | | 25 Mar, 2017 |
| Calcitriol (active Vitamin D) recommended after kidney transplant – March 2014 | | 28 Apr, 2016 |
| Active form of vitamin D (calcitriol) cut in half the fractures following organ transplant – meta-analysis Aug 2011 | | 26 Jul, 2015 |
| Gut, Alzheimer, autism, disease, fecal transplant, etc - Dr. Perlmutter, May 2015 | | 18 May, 2015 |
| 400,000 IU barely raised liver transplant candidate vitamin D levels (no surprise) – March 2015 | | 26 Mar, 2015 |
| Even with vitamin D supplementation Kidney transplant patients were deficient – Jan 2011 | | 28 Aug, 2012 |
| Babies Receive Heart Transplants Instead of Vitamin D Treatment | | 25 Jun, 2012 |
| Kidney transplant worked better if initially have high level of vitamin D – April 2012 | | 28 Apr, 2012 |
| Vitamin D levels low both before and after organ transplant July 2011 | | 27 Apr, 2012 |
| Heart transplant 19 ng vitamin D vs liver transplant 13 ng – April 2009 | | 12 Nov, 2011 |
| Many Organ transplants cause skin cancer – what is the role of UV – Feb 2012 | | No value for 'modification_date_major' |
---
Fact: A properly functioning liver is needed for the efficient activation of vitamin D in the body
Fact: Liver diseases often result in lower levels of vitamin D
Fact: Various pain relievers damage the liver function
Fact: Lower levels of vitamin D result in osteoporosis and many other diseases
Options with a poorly functioning liver appear to be:
Increased vitamin D (example: 2X more vitamin D if Liver is 1/2 as efficient)
Consider supplementing with Iron - a patented Iron supplement appears to work very well
Get prescription for active form of vitamin D (

Calcitriol

) which does not need the liver or kidney to get the benefits of vitamin D in the body
Get Calcidiol which does not need the liver
Use Topical Vitamin D - activation by the skin etc does not require the liver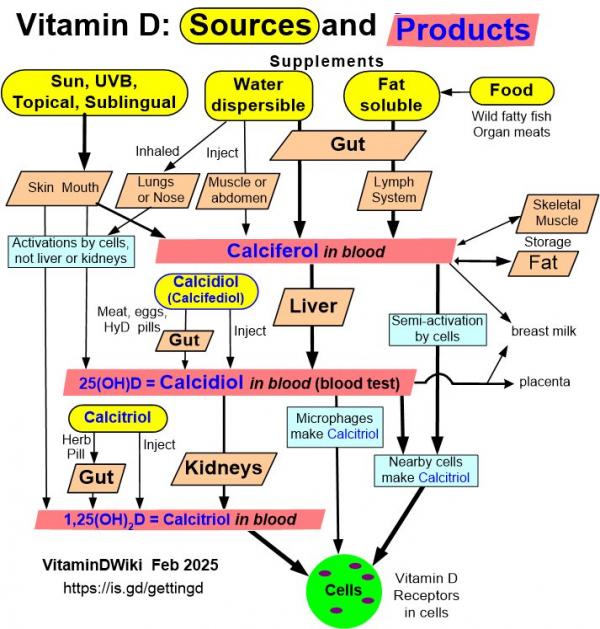 Click on image for ways of getting vitamin D even if Liver is not functioning well