Effect of vitamin D on gastrointestinal symptoms and health-related quality of life in irritable bowel syndrome patients: a randomized double-blind clinical trial
Neurogastroenterology & Motility, DOI: 10.1111/nmo.12851
A. Abbasnezhad1, R. Amani2,*, E. Hajiani3, P. Alavinejad3, B. Cheraghian4 andA. Ghadiri5
VitaminDWiki
Note: They would have found a much better increase of QoL if they just looked at the time when vitamin D levels were raised enough to be effective - approximatly 4 months
See also Gut problems associated with low vitamin D – invited review Dec 2015
This study does not appear to be aware of the many other ways to increase vitamin D
- injection, topical, sublingual, "gut friendly"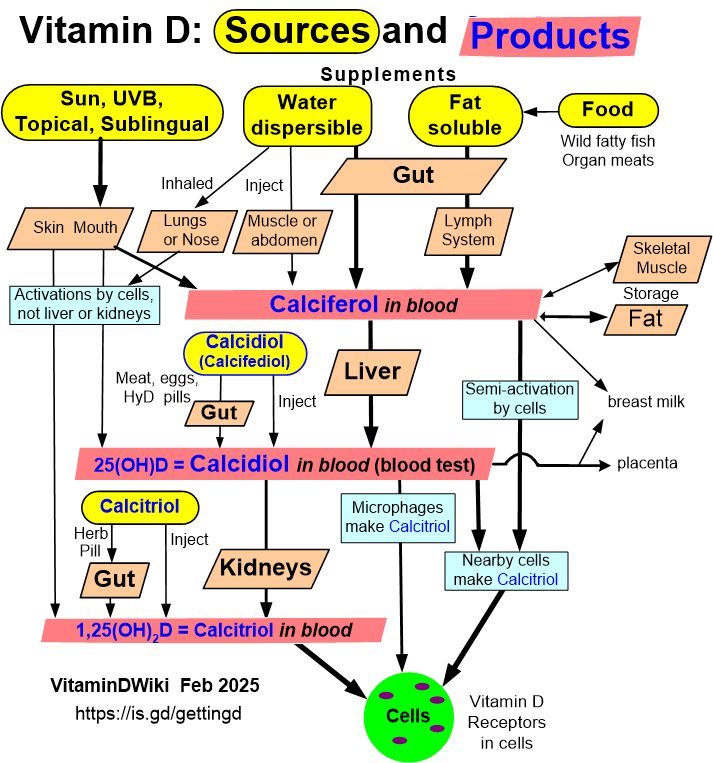 click on chart for details
Quality of Life category listing has
23
items
Intervention AND Gut
ALL 8 measures improved by Vitamin D

Background
Low-grade mucosal inflammation and immune activation are involved in the pathogenesis of irritable bowel syndrome (IBS). Furthermore, IBS symptoms are associated with a significantly higher prevalence of psychological distress, which in itself results into an impaired quality of life (QoL). Vitamin D could ameliorate the symptoms of patients suffering from IBS through its beneficial effects on psychological factors and inflammation.
Methods
A total of 90 IBS patients participated in this double-blind, randomized, placebo-controlled study. Participants were randomly selected to receive either 50 000 IU vitamin D3 or a placebo fortnightly for a period of 6 months. Patients reported their IBS symptoms at the baseline and monthly during intervention periods. The IBS severity score system (IBSSS) and IBS-specific QoL questionnaires were used at the baseline and postintervention.
Key Results
Over the 6-month intervention period, a significantly greater improvement in IBS symptoms such as abdominal pain and distention, flatulence, rumbling, and overall gastrointestinal (GI) symptoms (except dissatisfaction with bowel habits) was observed in the patients receiving vitamin D as compared to the placebo group. The IBSSS and the IBS-QoL scores in the vitamin D group significantly improved compared to the placebo group postintervention (mean IBSSS score change: -53.82 ± 23.3 vs -16.85 ± 25.01, p < 0.001, respectively; mean IBS-QoL score change: 14.26 ± 3 vs 11 ± 2.34, p < 0.001, respectively).
Conclusions & Inferences
Vitamin D seems to be an effective and safe option to improve QoL and symptoms of IBS. ClinicalTrials.gov (NCT02579902).
Publisher rents PDF for $6
Free
This page is in the following categories (# of items in each category)