Commentary by Damien Downing, MBBS, MRSB
VitaminDWiki
Opinions of vitamin D needed to PREVENT COVID-19 include
This commentary: 20,000 IU/day for 14 days then 4,000 IU daily

Note: 1/2 of the population needs more than 4,000 IU daily

50,000 IU/day for 7 days then 50,000 IU weekly (= 7,000 IU daily)
VitaminDWiki: 400,000 IU once then 200,000 IU monthly (= 7,000 IU daily)

Thus, the estimated Vitamin D total doses needed for restoration:

280,000 IU, 350,000 IU and 400,000 IU
Note: Need large doses if Overweight or Obese
Note: Need larger loading and maintenance doses to TREAT COVID-19

If we act on the data showing that it is highly probable that vitamin D can save lives, we could fix this pandemic in a month, for perhaps $2 per person. There would be no significant adverse effects. If we wait for "evidence" that vitamin D mitigates the impact of COVID-19, thousands more will die. If we could arrange to give everyone vitamin D, and it failed to protect them, so what? The risk from not acting is much greater than the risk from acting. Dosage is important and generally misunderstood.
Two countries have acted on this already: Egypt and Slovenia. Why can't we?
The Orthomolecular Medicine News Service has been publicizing the importance of vitamins D and C, and the minerals zinc and magnesium, in this pandemic since January [1]. I have been writing about Vitamin D and sunlight for over 30 years [2], and it has never been more relevant.
If you caught the COVID19 virus right now, having a good vitamin D status (from already having taken a supplement) would
Reduce your risk of the disease becoming severe by 90%
Reduce your risk of dying by 96%
This is not "proven" or "evidence-based" until we have done controlled trials comparing it to placebo. Any volunteers for that? But the data, already strong, has been pouring in since the start of the pandemic. Here's the data for the two statements above.
[A Hazard Ratio of 4 means that in one condition, for instance vitamin D deficiency, you are 4 times more likely to suffer the "hazard" than in another condition, say vitamin D adequacy. The graphics are all mine.]
A Philippine study [3]
With a deficient vitamin D status (<50nmol/L) the probability of becoming Severe or Critical with COVID-19 was 72.8% against 7.2% with adequate vitamin D (>75nmol/L). The Hazard Ratio is 10.0.
An Indonesian study [4]

With a deficient vitamin D status (<50nmol/L) the mortality rate from COVID-19 was 98.8% against 4.1% with adequate vitamin D (>75nmol/L). The Hazard Ratio is 24.1.
A review of data on Europe [5]

For countries in Europe, the probability of developing COVID-19, and of dying from it, is negatively correlated with mean population vitamin D status, with both probabilities reaching zero above about 75nmol/L. (The chart also shows the lower vitamin D levels for the elderly in Spain and Italy. [6]) It is also known that other factors such as age, hypertension, and cardiovascular disease, obesity, and diabetes are commonly associated with death in COVID-19. [5-8] For example, the elderly population in care facilities often do not get much sunlight exposure nor adequate supplements of essential nutrients including vitamin D, which will increase their risk of serious infections. Further, the 25(OH)D level in northern European countries such as Sweden drops in late winter to ~50 nmol/L or less, which may explain their relatively high death rate from infection. [9]
Dosage is important and generally misunderstood
Recent studies have suggested in discussion that more than 4000 IU per day of vitamin D3 may carry a risk of harm, citing the UK Scientific Advisory Committee on Nutrition report of 2016 which set the recommended Upper Level (UL) intakes of 50mcg/2000IU per day. [10] That report says; "Excessive vitamin D intakes have, however, been shown to have toxic effects (Vieth, 2006)". [10] However this is misleading, as the Vieth paper [11] states: "Published reports suggest toxicity may occur with 25(OH)D concentrations beyond 500 nmol/L." This leaves a wide margin of safety.
The 3 papers mentioned above [3-5] show that a vitamin D3 blood level of at least 75 nmol/L (30 ng/ml) is needed for protection against COVID-19. Government recommendations for vitamin D intake - 400 IU/day for the UK and 600 IU/day for the USA (800 IU for >70 years) and the EU - are based primarily on bone health. This is woefully inadequate in the pandemic context. An adult will need to take 4000 IU/day of vitamin D3 for 3 months to reliably achieve a 75 nmol/L level [12]. Persons of color may need twice as much [13]. These doses can reduce the risk of infection, but are not for treatment of an acute viral infection. And since vitamin D is fat-soluble and its level in the body rises slowly, for those with a deficiency, taking a initial dose of 5-fold the normal dose (20,000 IU/day) for 2 weeks can help to raise the level up to an adequate level to lower infection risk.
Other essential nutrients can help
As mentioned above, many studies have shown that for those deficient in essential nutrients, a protocol that includes vitamin D, vitamin C, magnesium, and zinc can decrease the risk of infection for viruses, including those similar to COVID-19.[1] Recommended preventive adult doses are vitamin C, 3000 mg/day (in divided doses, to bowel tolerance), magnesium, 400 mg (in malate, citrate, or chloride form), zinc, 20 mg. [1]
References
1. Saul AW. (2020) Vitamin C Protects Against Coronavirus. Orthomolecular Medicine News Service http://orthomolecular.org/resources/omns/v16n04.shtml
2. Downing D. (1988) Day Light Robbery. Arrow Books, London. ISBN-13: 978-0099567400
3. Alipio MM. (2020) Vitamin D supplementation could possibly improve clinical outcomes of patients infected with Coronavirus-2019 (COVID- 2019). Preprint available at SSRN: https://ssrn.com/abstract=3571484
4. Raharusuna P, Priambada S, Budiarti C et al. (2020) Patterns of COVID-19 Mortality and Vitamin D: An Indonesian Study.
5. Ilie, P., Stefanescu, S., Smith, L. (2020) The role of Vitamin D in the prevention of Coronavirus Disease 2019 infection and mortality. Research Square preprint. https://europepmc.org/article/ppr/ppr147305
6. Lips P, Cashman K, Lamberg-Allardt C et al (2019) Current vitamin D status in European and Middle East countries and strategies to prevent vitamin D deficiency: a position statement of the European Calcified Tissue Society. Eur J Endocrinol. 180:23-54. https://europepmc.org/article/MED/30721133
7. Oaklander M (2020) Almost Every Hospitalized Coronavirus Patient Has Another Underlying Health Issue, According to a Study of New York Patients. Time Magazine, April 22, 2020. https://time.com/5825485/coronavirus-risk-factors
8. Richardson S, Hirsch JS, Narasimhan M. (2020) Presenting Characteristics, Comorbidities, and Outcomes Among 5700 Patients Hospitalized With COVID-19 in the New York City Area. JAMA. 323:2052-2059. https://jamanetwork.com/journals/jama/fullarticle/2765184
9. Klingberg E, Oleröd G, Konar J, et al. (2015) Seasonal variations in serum 25-hydroxy vitamin D levels in a Swedish cohort. Endocrine, 49:800-808. https://pubmed.ncbi.nlm.nih.gov/25681052
10. UK Scientific Advisory Committee on Nutrition (SACN) (2016) Vitamin D and Health. https://assets.publishing.service.gov.uk/government/uploads/system/uploads/attachment_data/file/537616/SACN_Vitamin_D_and_Health_report.pdf
11. Vieth R (2006) Critique of the considerations for establishing the tolerable upper intake level for vitamin D: critical need for revision upwards. J Nutr, 136:1117-1122. https://pubmed.ncbi.nlm.nih.gov/16549491
12. Vieth R, Chan PC, MacFarlane GD. (2001) Efficacy and safety of vitamin D(3) intake exceeding the lowest observed adverse effect level. Am J Clin Nutr, 73:288-294. https://pubmed.ncbi.nlm.nih.gov/11157326
13. Cashman KD, Ritz C, Adebayo FA, et al. (2019) Differences in the dietary requirement for vitamin D among Caucasian and East African women at Northern latitude. Eur J Nutr. 58:2281-2291. https://pubmed.ncbi.nlm.nih.gov/30022296

Nutritional Medicine is Orthomolecular Medicine
Orthomolecular medicine uses safe, effective nutritional therapy to fight illness.
For more information: http://www.orthomolecular.org
Find a Doctor: To locate an orthomolecular physician near you: http://orthomolecular.org/resources/omns/v06n09.shtml
The peer-reviewed Orthomolecular Medicine News Service is a non-profit and non-commercial informational resource.
---
COVID-19 treated by Vitamin D - studies, reports, videos in VitaminDWiki follows

As of Jan 26 had: 34 trials, 4 trial results, 13 meta-analyses and reviews, 46 observations, 26 recommendations, 42 associations, 84 speculations, 38 videos see also COVID-19 and Vitamin D: Governments. Health problems. Hospitals
Top Vitamin D and COVID-19 recent updates
---
Intervention
Intervention Trial Summary Table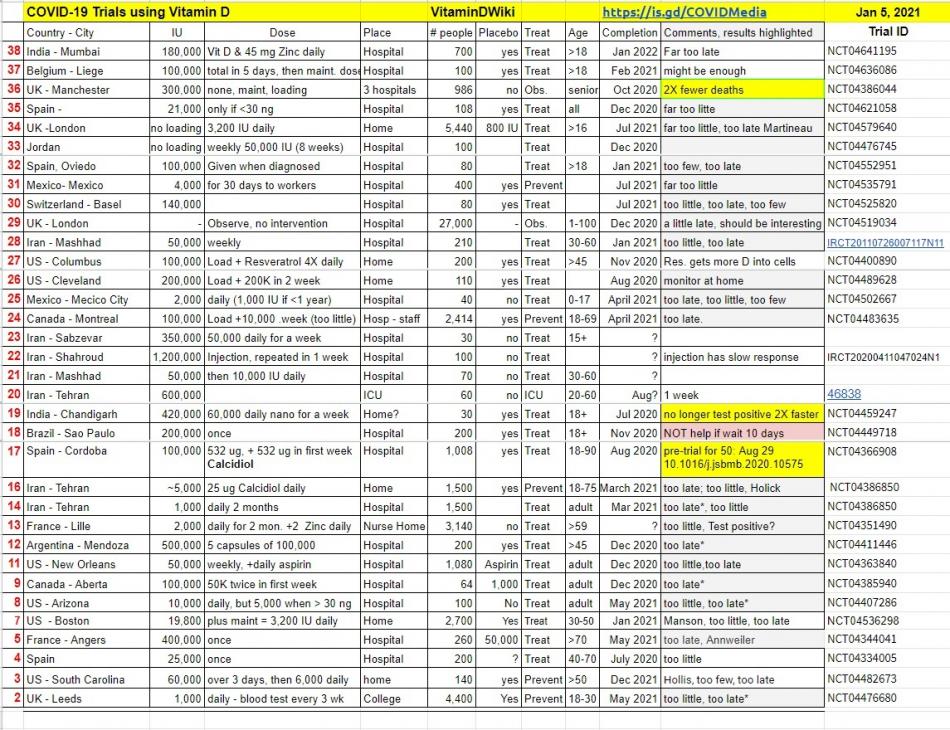 Details on #5 = COVIT-TRIAL Dec 27
Note: >70% of the RCT using Vitamin D to fight COVID-19 are using at least 100,000 IU during the first week

Trial Results
Virus meta-analyses and Systematic Reviews
Observe - Less likely to become infected
short URL to this section = https://is.gd/COVID_less
Observe - Reduced Severity/Death
MORTALITY AND Virus (automatically updated):
2.8 X fewer COVID-19 nursing home deaths if add 10,000 IU Vitamin D daily for a week (small observation)- Jan 2021
Chinese COVID-19 study – 80 pct of severe cases had low Vitamin D, all asymptomatic cases had OK Vit D – Oct 13, 2020
9X COVID-19 survival in nursing home if had 80,000 IU dose of vitamin D in previous month – Oct 2020
Children infection by COVID-19 had much lower levels than controls Research Gate, Turkey Oct 2020
32X more likely to have severe-critical COVID-19 in Turkish hospital if Vitamin D deficient – Oct 5, 2020
Vitamin D levels were NOT associated with COVID-19 severity - Sept 2020

ALL patients had < 20 ng of vitamin D.
Impact of Vitamin D Deficiency on COVID-19-A Prospective Analysis from the CovILD Registry,
Hint: need >30 ng to get a benefit doi: 10.3390/nu12092775

Far fewer COVID-19 deaths in the summer (Europe, Canada) Aug 21

Death rates fell as vitamin D levels typically go up in the summer.
Many charts. 4 other possible reasons for the drop in death rates

Vitamin D Supplementation During the COVID-19 Pandemic Mayo Clinic Letter (Online June 6) Aug 5, FREE 2 page PDF

"In Slovenia, in view of COVID-19 pandemic, medical doctors were urgently advised by leading experts to supplement vitamin D in high-risk and fragile individuals and in COVID-19 patients"

Vitamin D Sufficiency Reduced Risk for Morbidity and Mortality in COVID-19 Patients - Holick July 14

No COID19 deaths in a hospital if >41 ng and <80 years old
[https://journals.plos.org/plosone/article?id=10.1371%2Fjournal.pone.0239799&utm_source=feedburner&utm_medium=feed&utm_campaign=Feed%3A+plosone%2FPLoSONE+%28PLOS+ONE+-+New+Articles%29|Peer reviewed publication] Sept 25
"We did observe that 6.3% of the patients who had a blood level of 25(OH)D of at least 40 ng/mL succumbed to the infection compared to 9.7% and 20% who died and had a circulating blood level above and below 30 ng/mL respectively. Thus, a blood level of at least 40 ng/mL may be optimal for vitamin D's immunomodulatory effect. "
[https://journals.plos.org/plosone/article/file?id=10.1371/journal.pone.0239799.s001&type=supplementary|Nice 4 minute video by Dr. Holick] - unfortunately only recommends 1500 - 2000 IU for adults, which will take >6 months to get most people above 16 ng

Evaluation of the Relationship Between Zinc Vitamin D and b12 Levels in the Covid-19 Positive Pregnant Women posted May 29

Exclusion Criteria: No vitamin D , Vitamin B12 or Zinc supplement use

Clinical trial Arm1: Observe COVID-19 Deaths and Vitamin D levels in the UK trial completion June 2021

Arm2: Measure Vitamin D of patients in general practices and see if they get COVID-19 in the next 6 months (prevention)

Clinical trial observing Vitamin D levels of 500 people in Spain at entry into ICU and recording outcomes hould have been completed July 2020
Clinical trial to observe vitamin D levels of 100 COVID-19 Turks in hospital should have been completed July 2020

Bursa City Hospital, NCT04394390

WHO 3 RCT for Vitamin D and COVID-19 as of May 27 (WHO not responding when asked for details)

NCT04386044 Investigating the Role of Vitamin D in the Morbidity of COVID-19 Patients 10/05/2020
NCT04334005 Vitamin D on Prevention and Treatment of COVID-19 29/03/2020
ChiCTR2000029732 Impact of vitamin D deficiency on prognosis of patients with novel coronavirus pneumonia (COVID-19) 2020-02-10

Clinical trial to measure Vitamin D status AND vitamin D genes of COVID-19 patients in Portugal Study completion date March 2021

No intervention, hope they consider genes not noticed by Vit. D tests: such as Vitamin D Receptor, CYP27B1
Vitamin D Dosing Recommendations for COVID-19
UK Parliament discussing Vitamin D for COVID-19 Jan 14, 2021. mentioned 66 times - mainly 400 IU
Clinical trials are proving that Vitamin D fights COVID-19 in hospitals by VitaminDWiki

Single dose of 200,000 IU

600,000 IU initially followed by 10,000 IU daily for 20 days Dr. Coimbra June 15, 2020
A single dose of 300,000 IU of vitamin D should fight COVID-19 for 2 months - Hypothesis - Aug 21, 2020
Portion of image from June 5 video (below)
Parkinson's Disease patients who were taking Vitamin D were 0.56 X less likely to catch COVID-19 - June 2020
Commentary: Myths and facts on vitamin D amidst the COVID-19 pandemic Metabolism, June 2, FREE PDF, peer-reviewed publication

"Preventive doses of vitamin D3 of 10,000 IU/day for 4 weeks followed by 5000 IU/day to reach a target 25(OH)D level of 100–150 nmol/L [24], and treatment doses >6000 IU/day in deficient individuals to reach a similar level and reduce disease progression [48], are suggested. ""
Comment: Strange that the treatment dose is less than the prevention dose. Note treatment dose will take > 3 months to help

Perhaps they meant the treatment dose to be 60,000 IU, not 6,000 IU

Perspective: improving vitamin D status in the management of COVID-19 May 22 free PDF

If low: 50,000 IU twice a week at the diagnosis (100,000 IU total)., then 50,000 IU taken once a week for the 2nd and 3rd weeks.

Note: VitaminDWiki believes that this dosing is not large enough for prevention, much less treatment

for people who have not been taking any vitamin D BusinessWorld May 22 - by Dr Renu Mahtani in videos below

Vitamin D 60k IU twice a week for two weeks to be followed by 60k once a week for the next six weeks.
or Vitamin D 60k IU daily for three days to be followed by 60k weekly for the total period of two months.
Thus 480,000 IU total, No Vitamin D testing needed
Some people wanted improved immune systems, so took more vitamin D

COVID-19 associated with Low Vitamin D
COVID-19 lung infection upsets Vitamin D genes (so more or different form of Vit D is required) - Dec 22, 2020
Low serum 25‐hydroxyvitamin D levels in patients hospitalised with COVID‐19 are associated with greater disease severity July 3 FREE PDF

Has undergone peer review, 200,000 IU Vitamin D occasional dosing, 134 people

Obesity, walking pace and risk of severe COVID-19: Analysis of UK Biobank preprint July 11

normal weight slow walkers were 2.5 more likely to get COVID-19

Perspective: Vitamin D deficiency and COVID-19 severity - plausibly linked by latitude, ethnicity, impacts on cytokines, ACE2, and thrombosis (R1) July 2020, FREE PDF
T1 Diabetic children with low vitamin D have COVID-19 problems (like diabetic adults) - preprint May 15
COVID-19 deaths strongly correlated with percent having less than 10 ng of Vitamin D in a country– July 1 2020
Pregnant women admitted to hospital with COVID-19 5X more often than non-pregnant women NYT June 24

31% vs 6%. Note: NYT article is confusing. Note: Vitamin D levels drop during pregnancy

The role of vitamin D in reducing risk of COVID-19: a brief survey of the literature - June 9, 2020 in VitaminDWiki
Evidence Supports a Causal Model for Vitamin D in COVID-19 Outcomes – June 3, 2020 in VitaminDWiki

Founder of VitaminDWiki believes that Causal Modeling will replace many RCTs in the future

BIG DATA is far faster and lower cost than RCTs while being able to consider far more interactions

Model A: 16 predictions match observed data; 3 predictions cannot be determined.

Obese have major problems with COVID-19 - probably due to lower vitamin D and higher ACE2 June 5, 2020
Researchers show potential link between vitamin D and coronavirus NBC News Madison Wisconsin May 22

Reporting on the study from the University in that city - which is below

Vitamin D for Covid-19? May 12 FREE PDF
Perspective: improving vitamin D status in the management of COVID-19 European Journal of Clinical Nutrition May 12 FREE PDF
Avoidance of vitamin D deficiency to slow the COVID-19 pandemic Martin Kohlmeier, BMJ, May 20 FREE PDF
Vitamin D deficiency as risk factor for severe COVID-19: a convergence of two pandemics preprint May 5. updated May 18

186 patients. Lower Vitamin D levels associated with worse COVID-19 only for males
Vitamin D levels : all males at same hospital in 2019, males in 2020 with COVID-19

COVID-19 and vitamin D—Is there a link and an opportunity for intervention? Hrvoje Jakova, letter to the editor, May 1, FREE PDF
[https://www.researchsquare.com/article/rs-30390/v1 |No COVID-19 patient in ICU had >20 ng, 4 had 12.5-20 ng, 13 had < 12.ng ] preprint May 22
Max Minute: How Much Does Vitamin D Help Against COVID-19? CBS News NYC Video May 19
The Essential Role of Vitamin D in the Biosynthesis of Endogenous Antimicrobial Peptides May Explain Why Deficiency Increases Mortality Risk in COVID-19 Infections preprint May 16 (at least 10,000 IU daily)
Vitamin D appears to play role in COVID-19 mortality rates Northwestern Univ. May 7

"Patients with severe deficiency are twice as likely to experience severe complications, including death"
"...statistical analysis of data from hospitals and clinics across China, France, Germany, Italy, Iran, South Korea, Spain, Switzerland, the United Kingdom (UK) and the United States."

Vitamin D Deficiency and ARDS after SARS-CoV-2 Infection Irish Medical Journal May 11

Analysis of 36 COVID-19 patients: Vitamin D status: (nmol) ARDS 27, pneumonia 41;
and, if <30 nmol. 3.2 X more likely to have intubation
Vitamin D levels are lower in those who test positive for COVID-19 -[doi:10.3390/nu12051359| Nutrients] May 09
[https://articles.mercola.com/sites/articles/archive/2020/05/08/vitamin-d-level-correlated-to-covid19-outcomes.aspx?cid_source=dnl&cid_medium=email&cid_content=art1HL&cid=20200508Z1&et_cid=DM527863&et_rid=867359477 |Vitamin D Level Is Directly Correlated to COVID-19 Outcome] Mercola May 8

Overview of many studies and video by Ivor Cummins

[https://www.sciencedaily.com/releases/2020/05/200507131012.htm?utm_source=feedburner&utm_medium=email&utm_campaign=Feed%3A+sciencedaily%2Fhealth_medicine%2Fvitamin_d+%28Vitamin+D+News+--+ScienceDaily%29 |Vitamin D linked to low virus death rate in 20 countries in Europe] Science Daily May 7
[https://doi.org/10.1101/2020.05.01.20087965 |Evidence Supports a Causal Model for Vitamin D in COVID-19 Outcomes] May 6 preprint

Excellent extensive use of Causal Influence AI to discover associations.
I have suspected that Causal Influence could be much better, far lower cost, and faster than the use of RCTs

[https://papers.ssrn.com/sol3/papers.cfm?abstract_id=3586555|Evidence of Protective Role of Ultraviolet-B (UVB) Radiation in Reducing COVID-19 deaths] preprint May 7

"permanent unit increase in UVI is associated with a 2.2 % decline in daily growth rates of cumulative COVID-19 deaths [p < 0.01]
as well as a 1.9 % decline in the daily growth rates of CFR [p < 0.05]
64 countries, 78 days, 6 UVI models

[https://papers.ssrn.com/sol3/papers.cfm?abstract_id=3593258#.XrE0oF1wSjU.twitter |Vitamin D Level of Mild and Severe Elderly Cases of COVID-19: A Preliminary Report] May 5

176 seniors in S. Asia - published in India

COVID-19 was 19X more likely if low vitamin D (may be invalid data)– April 2020 Philippines

The raw data has

strange gaps

in the vitamin D levels

Indonesia preprint 13X if vitamin D insufficient,19X for patients who are vitamin D deficient.

VitaminDWiki has requested but has not yet access to the raw data
Speculation
__
click here to see earlier speculations
__
Vitamin D: A cheap yet effective bullet against coronavirus disease-19 – Are we convinced yet?
How We can fix this pandemic in a month (Vitamin D: 20K IU for 14 days) – June 22, 2020 in VitaminDWiki
COVID-19 1.9X more likely if Hypocalcemia (which is associated with low vitamin D) June 22, small study, FREE 17 page PDF
Possible Role of Vitamin D in Covid-19 Infection in Pediatric Population Endocrinol Investigation June 15, FREE PDF
Covid-19: Public health agencies review whether vitamin D supplements could reduce risk BMJ June 19

The 2017 BMJ publication that concluded that vitamin D reduced the risk of ARDS was viewed 300,000 times since COVID-19 started.
An RCT this Winter may be run by the UK to confirm the possibility

Note: Many other RCTs are already underway - see the top of this section

Vitamin D and Coronavirus Geriatric Nursing, June 18
Vitamin D deficiency and co-morbidities in COVID-19 patients – A fatal relationship – June 7, 2020 in VitaminDWiki*
Does Vitamin D play a role in the management of Covid-19 in Brazil? April 2020 free PDF

A strong role, but recommends against high doses such as 10,000 IU - no reason given

Exploring the Links Between Coronavirus and Vitamin D NYT June 10

A review of preprints, which does not look at on-line comments about about errors in a few of them.
Apparently authored by a reporter, not a scientist

Is Vitamin D One of the Key Elements in COVID-19 Days? June 2020, letter to editor, Turkey

" Although there is a need for more research related to this subject, we think that supplementing vitamin D as a part of standard nutrition may be somewhat effective in providing clinical benefit"

El rol de la vitamina D en la infección por SARS-CoV-2 Spanish June FREE PDF
Is Vitamin D One of the Key Elements in COVID-19 Days? Letter to the editor of The journal of nutrition, health & aging - June 13
Vitamin D Levels and COVID-19 Susceptibility: Is there any Correlation? June 2 FREE PDF

4,000 IU for 2 months should help a lot. No data (yet) to support quickly fighting COVID-19 with loading doses

Does Vitamin D play a role in the management of Covid-19 in Brazil? June 1, FREE PDF

Recommends AGAINST 10,000 IU/day

Supplementing with high doses of vitamin D could represent a promising alternative to prevent or treat COVID-19 infection June 1, peer reviewed ,FREE Spanish PDF

10,000 IU daily, 50,000 to 100,000 IU weekly

Your Vitamin D Level Must Reach 60ng/mL Before the Second Wave Mercola June 1

Founder of VitaminDWiki believes than 40 ng should be sufficient - based on ~40 studes

Vitamin D deficiency and COVID-19 pandemic May 29 FREE PDF

Patrick Zemb a Peter Bergmanb Carlos A.Camargo Jr c, Etienne Cavalier d, Catherine Cormier e, Marie Courbebaisse f, Bruce Hollis g, Salvatore Minisola h Stefan Pilz i, Pawel Pludowsk j, François Schmitt k, Mihnea Zdrenghea l, Jean-ClaudeSouberbielle m"

Premorbid IL-6 levels may predict mortality from COVID-19 preprint, Morry Silberstein May 29 FREE PDF
Vitamin D: A simpler alternative to tocilizumab for trial in COVID-19? Medical Hypotheses, Morry Silberstein July 2020 FREE PDF

"Vitamin D lowers immune cell production of IL-6"

Does COVID-19 have a fear of hights? -(or just a fear of the increased VItamin D generated at high altitudes) WP May 31

Cusco Peru (11,000 feet) - Vitamin D is not mentioned. yet there may be 50% more UVB-generated Vitamin D at that altiude
"In one peer-reviewed study, published in the journal Respiratory Physiology & Neurobiology, researchers from Australia, Bolivia, Canada and Switzerland looking at epidemiological data from Bolivia, Ecuador and Tibet found populations living above 3,000 meters (9,842 feet) reported significantly lower levels of confirmed infections than their lowland counterparts"

Reduced COVID-19 in Mexico is associated with higher UV or higher elevation (both of which are associated with higher vitamin D) preprint May 27
Vitamin-D and COVID-19: Do Deficient Risk a Poorer Outcome? Lancet May 20

Reviews many reports and includes the following comment by a researcher of "COVIDENCE UK, a study to investigate how diet and lifestyle factors might influence transmission of SARS-CoV-2, severity of COVID-19 symptoms, speed of recovery, and any long-term effect"
"Despite his enthusiasm for the study, Martineau is pragmatic: "At best vitamin D deficiency will only be one of many factors involved in determining outcome of COVID-19, but it's a problem that could be corrected safely and cheaply; there is no downside to speak of, and good reason to think there might be a benefit".

Should be cost-effective to use Vitamin D, Vitamin C and Curcumin to fight Covid-19 in India preprint May 22

Fails to mention dose sizes or frequencies

U.S. Rep. Glenn Grothman (Wisc.) wants the CDC to investigate if Vitamin D can fight COVID-19 May 22
Optimisation of Vitamin D Status for Enhanced Immuno-protection Against Covid-19 Irish Medical Journal, April 2020
Lungs as target of COVID-19 infection: Protective common molecular mechanisms of vitamin D and melatonin as a new potential synergistic treatment Aug 2020

both should help fight lung problems. Clinical Trials needed to see to discover dosing and benefits FREE PDF

Mechanism of inflammatory response in associated comorbidities in COVID-19 PubMed literature Review May 12, free PDF

"Vitamin D is highlighted as a potential therapeutic target, because in addition to acting on the immune system, it plays an important role in the control of cardiometabolic diseases"

Vitamin D: A Low-Hanging Fruit in COVID-19? Medscape May 17

Statements by a dozen doctors, such as Dr. Rosen: "I've been a huge skeptic from the get-go, and loudly criticized the data for doing nothing. I am surprised at myself for saying there might be some effect,"

DOES VITAMIN D DEFICIENCY REALLY INCREASE RISK OF DEATH FROM COVID-19? Newsweek May 15

Reviews about 10% of the items on this page

Which fights COVID-19 more in the long-term - Vitamin D or Ultraviolet light Elemental+ May 13

Note: Megadoses of Vitamin D can restore the immune system in days, whereas UV takes months

Vitamin D and SARS-CoV-2 virus (Vitamin D should help) British Medical Journal May 13, 2020

Unfortunately. the UK consensus is that 400 IU is enough to prevent or treat any health problem, including COVID-19

The Possible Role of Vitamin D in Suppressing Cytokine Storm and Associated Mortality in COVID-19 Patients preprint April 30

FoxNews May 7: China, France, Germany, Italy, Iran, South Korea, Spain, Switzerland, the UK and the US.
Also reported on in Science Blogs and as The Vitamin That Reduces COVID Risk PSYBLOG May 30
"Backman said this correlation might help explain the many mysteries surrounding COVID-19, such as why children are less likely to die. Children do not yet have a fully developed acquired immune system, which is the immune system's second line of defense and more likely to overreact. Children primarily rely on their innate immune system," Backman said. "This may explain why their mortality rate is lower."
"Not only does vitamin D enhance our innate immune systems, it also prevents our immune systems from becoming dangerously overactive"

Role of vitamin D in pathogenesis and severity of COVID-19 infection preprint April 20
Perhaps solve the other pandemic: Vitamin D deficiency — to help beat Coronavirus? April 9, Joanneova - Australia 258 comments 10 days later
Taiwan seniors have high vitamin D levels, perhaps that reduces the risk of COVID-19 outbreaks von Helden April 18
Does Vitamin D Protect Us From Viral Infections? April 6

Croatian, 17 references - probably does protect

The role of Vitamin D in the prevention of Coronavirus Disease 2019 infection and mortality April 8

Charts of country levels of vitamin D and COIVD-19 cases and mortality Published May 6
Chart by von Helden No high death rates if Vitamin D> 30 ng / ml. (Mortality> 0.1 dead / 1000 inhabitants)

COVID-19: Vitamin D deficiency; and, death rates; are both disproportionately higher in elderly Italians, Spanish, Swedish Somali, and African Americans? April 7
COVID-19 and Vitamin D: Could We Be Missing Something Simple? Children's Health Defence April 9
Vitamin D Supplements Could Reduce Risk of Influenza and COVID-19 Infection and Death - April 9, 2020
97 year old woman with hypertension, diabetes, heart problems but with 75 ng of Vitamin D survived COViD-19 von Helden April 10
VIDEOS and PODCASTS
---
Groups which actively ignore Vitamin D possibility
The Wellcome-Gates COVID-19 Accelerator initiative expressly prohibits funding for Vitamins.

Why/How Vitamin D both treats and prevents virus
Short URL for this section = https://is.gd/covitamind