---
Heavily Vaxxed Japan's SARS-CoV-2 Surge Turns Deadly - July 25, 2022
Hospitalizations Accelerate & Death Toll Now Growing
TrialSitenews
"By Sunday, July 24th the 7-day new daily infection average surged to 150,559 cases. More disturbing is the growth in daily hospitalizations. On July 19, TrialSite reported on the last date with figures—July 13 with 11,679 persons in the hospital in Japan due to COVID-19. The ICU number on that day was 747. What's unfolded during the last six days? The hospitalization figure has climbed to 18,010, with 1,031 Japanese now in the ICU."
---
Record COVID-19 Deaths in New Zealand - July 25, 2022
Despite Near Universally Vaxxed and Heavily Boosted Population
TrialSiteNews
---
Majority of COVID-19 Deaths Among Australia NSW Residents Triple & Quadruple Vaxxed- July 1, 2022
TrialSiteNews June 28 TSN Video July 1, 2022
Mainly Omicron BA.4 and BA.5

TrialSite suggests a confluence of factors interact to heighten risk of hospitalization and death including
1) COVID-19 vaccine durability challenges (waning effectiveness against mutating pathogens);
2) mutating variants and subvariants that vaccine manufacturers face challenges keeping up with;
3) the overall surge in new cases due to a combination of highly transmissible variants/sub-variants and less natural immunity generally present;
4) Australia's rigid zero-tolerance COVID policy during the pandemic.
All these combined equal heightened risk for the elderly and immunocompromised."
The data for the week ending June 18th reveals that 94.8% of NSW residents that passed away due to COVID-19 were vaccinated.
---
Possible reasons: Each jab 1) reduces natural immunity or 2) reduces Vitamin D level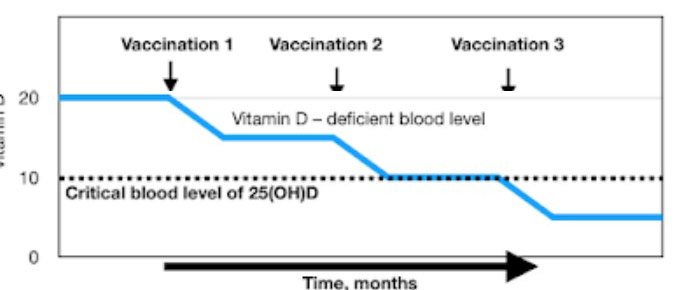 conceptual chart adapted from Dr, David Grimes
---
Infection rates double in those who had been boosted
Primary 1-2 jabs, 56.44 per 100,000, add 1 or 2 boosters: 119.94 per 100,000
Why Three COVID Jabs Are Worse Than Two - Mercola July 1, 2022 PDF
Also: Child Trials
"Another crucial piece of information that Craig highlights in her video is that of the 4,526 children enrolled in the trial, a whopping 3,000 dropped out. Pfizer does not explain this highly suspicious anomaly. Oftentimes, trial participants will drop out when side effects are too severe for them to continue."
"Six of the children, aged 2 to 4 years, in the vaccinated group were diagnosed with "severe COVID," compared to just one in the placebo group. So, the likelihood the shot is causing severe COVID is higher than the likelihood that it's preventing it."
"In the end, they only counted three cases of COVID in the vaccine arm and seven cases in the placebo group. They literally ignored 97% of all the COVID cases that occurred during the trial to conclude that the shots were "effective" in preventing COVID."
---
---
---
---
Vermont June - July 2022
Unvx": 0.7025 per 100,000 "Vx": 1.19375 per 100,000
(weekly average for 4-week period June 4 - July 1
---
Similar being reported in Israel, Gibraltar, Ireland, Iceland (hospitalizations)
---
---
As of August 16, 2022, the VitaminDWiki page had: 34 trials, 14 trial results, 37 meta-analyses and reviews, 69 observations, 38 recommendations, 55 associations, 89 speculations, 58 videos, 48 Mortality studies see related: Governments, HealthProblems, Hospitals, Dark Skins, 26 risk factors are ALL associated with low Vit D, Recent Virus pages Fight COVID-19 with 50K Vit D weekly Vaccines Take lots of Vitamin D at first signs of COVID 116 COVID Clinical Trials using Vitamin D (08/2022)
5 most-recently changed Virus entries
---
VitaminDWiki pages with VACCIN in title (167 as of June 2022)
This list is automatically updated
| Title | | Modified |
| --- | --- | --- |
| Cancers are associated with low vitamin D, poor vaccination response and perhaps poor VDR – July 2022 | | 15 Aug, 2022 |
| 'Pandemic of the Boosted': UK Data Reveal Problem With COVID Vaccinations - July 2022 | | 22 Jul, 2022 |
| COVID deaths are often of fully vaccinated in fully vaccinated countries – June 2022 | | 12 Jul, 2022 |
| Each COVID reinfection causes more severe disease in miltary veterans (independant of vaccination) - July 2022 | | 10 Jul, 2022 |
| Temporary conception problems after vaccinations, etc. - July 2022 | | 10 Jul, 2022 |
| Conceptions less likely after major stress (birth, surgery, major illness, and vaccination in this case) | | 06 Jul, 2022 |
| 2 Vaccinations provided no protection against Omicron infection 6 months later – New England J. of Medicine – June 2022 | | 25 Jun, 2022 |
| A third of healthcare workers took sick leave after Covid vaccination (Germany) - April 2022 | | 22 Jun, 2022 |
| 28,859 deaths and 238,412 serious injuries due to vaccines, how many more when add ages 0.5 - 5 – June 2022 | | 21 Jun, 2022 |
| Omicron mutations to avoid vaccinations may get much worse – Bossche June 2022 | | 19 Jun, 2022 |
| 89% are vaccinated, but Omicron BA.5 is surging (Portugal) June 2022 | | 07 Jun, 2022 |
| Vaccinations resulted in increased office visits for children 16 months later - Nov 2020 | | 24 May, 2022 |
| Problems after childhood vaccinations - many studies | | 24 May, 2022 |
| US COVID vaccinations: 52 K disabled, 28 K deaths, 14K heart attacks, etc. - May 6, 2022 | | 19 May, 2022 |
| FDA approved 5-11 vaccine booster (based tiny unpublished study without asking advisory panel) May 2022 | | 17 May, 2022 |
| Vaccinated were 42 percent of US COVID Deaths in Jan-Feb 2022 – April 29, 2022 | | 02 May, 2022 |
| Problems with vaccine use during a pandemic - Dr. Bossche 2021, 2022 | | 02 May, 2022 |
| Innate immune suppression by SARS-CoV-2 mRNA vaccinations - April 2022 | | 22 Apr, 2022 |
| Vaccines were effective, important - PCP survey of May 2021 | | 15 Apr, 2022 |
| Micronutrients such as vitamin D should improve vaccine effectiveness (and decrease side effects) – April 2022 | | 12 Apr, 2022 |
| Pfizer vaccine produced 30 percent more antibodies if more vitamin D – July 2022 | | 08 Apr, 2022 |
| CDC and UK data reveal the COVID vaccines do not prevent cases, transmission, severe illness or deaths - April 3, 2022 | | 04 Apr, 2022 |
| COVID, like influenza, may be able to mutate to avoid vaccines for decades - March 2022 | | 29 Mar, 2022 |
| Increase in COVID Omicron deaths among vaccinated (CA this time) - March 2022 | | 27 Mar, 2022 |
| COVID vaccination: 29 percent higher antibody response if more than 20 ng of vitamin D – March 2022 | | 23 Mar, 2022 |
| Influenza vaccine antibodies not change with Vitamin D – 21 ng or 44 ng – RCT Feb 2019 | | 22 Mar, 2022 |
| Highly Vaccinated Nations Are Driving Global COVID Case Increases - March 14, 2022 | | 20 Mar, 2022 |
| Long-Haul COVID is somewhat less of a problem if vaccinated – Nov 2021 | | 18 Mar, 2022 |
| Vaccine injury claims paid: Thailand 45 million dollars, US 0 dollars - March 15, 2022 | | 15 Mar, 2022 |
| COVID infection appears better than vaccination at preventing future infections - many studies | | 18 Feb, 2022 |
| Number Needed to Treat: Flu - Vitamin D 4, Vaccination 40 – Feb 2017 | | 14 Feb, 2022 |
| COVID vaccination makes 6X more antibodies in those having good levels of both vitamin D and Iron – June 2021 | | 13 Feb, 2022 |
| Biden's Inner circle had close ties with Vaccine companies - March 2021 | | 03 Feb, 2022 |
| 66 percent of COVID Omicron patients in Ontario hospitals are vaccinated - Jan 23, 2022 | | 23 Jan, 2022 |
| Medications can be mandated to curb an epidemic (SCOTUS, 1905), no evidence that vaccines curb COVID - Jan 2022 | | 18 Jan, 2022 |
| Over 1,000 Studies Published in Peer-Reviewed Medical Journals Say the Vaccines Are Dangerous - Jan 5, 2022 | | 11 Jan, 2022 |
| COVID and vaccine spikes damage repair of adaptive immune system DNA (in the lab) - Oct 2021 | | 06 Jan, 2022 |
| COVID-19 cases vs. vaccination (counties and countries) - Sept 2021 | | 04 Jan, 2022 |
| COVID deaths of US seniors decreased after widespread vaccination, but INCREASED among younger – Dec 28, 2021 | | 28 Dec, 2021 |
| COVID vaccine: have warnings, all side effects reported, no mandates (Japan) - Dec 2021 | | 28 Dec, 2021 |
| Far fewer vaccination antibodies against Omicron - Dec 14, 2021 | | 28 Dec, 2021 |
| 3rd vaccination against Omicron waning in 10 weeks (2nd jab worthless at 20 weeks - UK data) - Dec 23, 2021 | | 27 Dec, 2021 |
| Vaccine holdouts aren't Republicans, but those under age 60 where perceived risk is worse than COVID – Dec 2021 | | 27 Dec, 2021 |
| Vitamin D might augment COVID-19 vaccines – 6 papers as of Dec 2021 | | 26 Dec, 2021 |
| Researchers found flu vaccine increased miscarriage risk by 7X -Sept 2017 | | 24 Dec, 2021 |
| Dr. McCullough on COVID-19: vaccine problems, home treatment – video, slides, transcript – Oct and Dec 2021 | | 22 Dec, 2021 |
| Most of the World's Vaccines Likely Won't Prevent Infection From Omicron - NYT Dec 19, 2021 | | 19 Dec, 2021 |
| The more COVID vaccine jabs, the more Omicron infections - Dec 16, 2021 | | 17 Dec, 2021 |
| The more COVID19 vaccine injections, the more omicron infections - Dec 16, 2021, | | 17 Dec, 2021 |
| Omicron may require fourth vaccine dose, Pfizer says - Dec 10, 2021 | | 17 Dec, 2021 |
| 16,000 Physicians and Scientists Agree Kids Shouldn't Get COVID Vaccine - Dec 15, 2021 | | 16 Dec, 2021 |
| Coronaviruses evolve faster with vaccinations, expect more beyond Omicron - Nov 30, 2021 | | 15 Dec, 2021 |
| HIV vaccine effectivity perhaps increased and side effects reduced if higher Vitamin D - Dec 2021 | | 14 Dec, 2021 |
| Vermont COVID death rates: vaccinated 2X higher than unvaccinated - Dec 2021 | | 12 Dec, 2021 |
| Vaccinated have HIGHER infection rates than unvaxxed (UK age 30-70) - Dec 9, 2021 | | 10 Dec, 2021 |
| Pfizer knew of 290 kinds of COVID vaccine problems | | 10 Dec, 2021 |
| COVID vaccines produce blood antibodies, not the needed mucosal antibodies - Dec 7, 2021 | | 10 Dec, 2021 |
| 11,321 Breakthru COVID cases in Massachusetts last week (fully vaccinated) - Dec 7, 2021 | | 09 Dec, 2021 |
| COVID, influenza, hepatitis B, measles, etc. vaccine responses vary with Vitamin D and its receptor | | 08 Dec, 2021 |
| COVID-19 infection risk 2X higher in vaccinated than previously infected (28,000 in Netherlands) – preprint Nov 24, 2021 | | 02 Dec, 2021 |
| Vaccinated were 28 percent of cases, 23 percent of deaths (waning)- CDC Sept 2021 | | 30 Nov, 2021 |
| Most Germans will be vaccinated, cured or dead of COVID in a few months (German Health Minister) - Nov 21, 2021 | | 23 Nov, 2021 |
| Most Germans will be vaccinated, cured or dead of COVID in a few months (German Health Minister) - Nov 21, 2021 | | 23 Nov, 2021 |
| 3,900 deaths within 2 weeks of 2nd vaccination in Sweden - Nov 18, 2021 | | 23 Nov, 2021 |
| Pfizer trial vaccinated 22,000: 1 COVID death prevented, but 4 died of heart attacks - Nov 2021 | | 23 Nov, 2021 |
| Elderly vaccinated for COVID were 2X more likely to die of ischemic stroke (2930 vs 1180 deaths)– Nov 2021 | | 22 Nov, 2021 |
| Fully Vaccinated Are COVID 'Superspreaders,' says Inventor of mRNA Technology - Oct 13, 2021 | | 20 Nov, 2021 |
| Vaccine definition by the CDC seems to now include Vitamin D - Sept 2021 | | 17 Nov, 2021 |
| Vaccination immunity is waning - Fauci - Nov 14, 2021 | | 16 Nov, 2021 |
| Shingles perhaps increased with COVID virus or vaccine - Nov 2021 | | 16 Nov, 2021 |
| Booster vaccination for all adults in CA, CO, AR - Nov 2021 | | 16 Nov, 2021 |
| Bill Gates admits COVID-19 vaccines don't stop viral transmission - Nov 5, 2021 | | 14 Nov, 2021 |
| COVID-19 Infection Rate Skyrockets in America's Most Vaccinated State: Vermont - Nov 14, 2021 | | 14 Nov, 2021 |
| Booster vaccination for all adult in California - Nov 11, 2021 | | 11 Nov, 2021 |
| NIH (where Faucci works) to debate vaccine mandates - Dec 1, 2021 | | 11 Nov, 2021 |
| 2X more male teens died than normal in England this summer (perhaps vaccination) - Oct 2021 | | 10 Nov, 2021 |
| Trump counties are 3X more likely die of COVID than Biden counties (vaccination, mask) - Nov 2021 | | 10 Nov, 2021 |
| Vaccine passports expire in 6 months in Israel, but not (yet) in the US - Oct 2021 | | 09 Nov, 2021 |
| Doctors want to prescribe alternative COVID treatments and not give vaccines needlessly - Summit Nov 6, 2021 | | 06 Nov, 2021 |
| COVID spread appears to not be stopped by vaccination, yet US wants to get all vaccinated by Jan – Nov 4, 2021 | | 04 Nov, 2021 |
| Nursing home vaccinated against Influenza, 800 IU of vitamin D daily cut infection rate in half – small RCT Oct 2021 | | 04 Nov, 2021 |
| Vaccination effectiveness dropped from 83 percent to ZERO after 9 months (Sweden, preprint) – Oct 2021 | | 29 Oct, 2021 |
| Severe fatigue and headache in 4 pct of vaccinated, age 16-25 - Oct 2021 | | 27 Oct, 2021 |
| COVID Vaccination trial for kids: 11 red flags - Oct 25, 2021 | | 26 Oct, 2021 |
| COVID natural Immunity is most likely better than vaccination immunity- literature review by Masterjohn - Oct 2021 | | 24 Oct, 2021 |
| TB vaccinations increased vitamin D levels a year later – Jan 2012 | | 20 Oct, 2021 |
| Adverse reactions to 100 Pfizer booster vaccinations: 83 pain, 63 fatigue, 48 headache, etc. - Sept 2021 | | 13 Oct, 2021 |
| Pfizer vaccine half as effective as Moderna after 6 months (fading or Delta) - Mayo preprint Aug 2021 | | 05 Oct, 2021 |
| Long-haul, VAERS, Ivermectin, vaccines, etc. Drs. Seheult, Patrick: Video with table of contents - Sept 17, 2021 | | 21 Sep, 2021 |
| Standard COVID vaccines probably improved effectiveness if higher vitamin D– Sept 2021 | | 15 Sep, 2021 |
| Vaccines protect for: 10 years Tetanus, 3 years Typhoid, 6 month Influenza, unknown COVID – WSJ Sep 10, 2021 | | 13 Sep, 2021 |
| Vaccinated and Unvaccinated are just as infectious after catching COVID-Delta (UK study) - Aug 2021 | | 21 Aug, 2021 |
| Effectiveness of COVID-19 vaccines might be increased by Vitamin D – Aug 2021 | | 20 Aug, 2021 |
| Vitamin D probably can both prevent Influenza and augment vaccine effectiveness – Aug 2018 | | 18 Aug, 2021 |
| Initial efficacy of vaccines against COVID-Delta - July 20, 2021 | | 11 Aug, 2021 |
| Pfizer Vaccine efficacy drops to 84 pcnt after 6 months (Delta not mentioned) - July 28, 2021 | | 07 Aug, 2021 |
| 'A Few Mutations Away': The Threat of a Vaccine-Proof Variant - CDC July 27, 2021 | | 07 Aug, 2021 |
| Vaccines are plan A for COVID-19 Immunity (no plan B ) - Sept 11, 2020 | | 01 Aug, 2021 |
| Obese get less benefit from vaccines: influenza, hepatitis B, rabies and now COVID-19 - March 2021 | | 01 Aug, 2021 |
| A virus can mutate to avoid a vaccine, need more than vaccines to fight a virus – July 31, 2021 | | 01 Aug, 2021 |
Title change made July 2022 caused the visitor count to reset.
There have actually been
465
visitors to this page since it was originally made