Total Vitamin D (standard measure) = 1+2+3
bio-available D
D tied up with albumin D
D tied up with D binding protein
VitaminDWiki Summary
Currently total vitamin D is measured, and the bio-available vitamin D is estimated
Estimation of bio-available is based on Vitamin D binding protein (VDB) and albumiN32
VDB varies with race and other factors
Bio-available vitamin D is currently difficult to measure, but there are some possibilities
See also VitaminDWiki
The articles in Vikamin D Binding Protein and Darker Skin are here:
&nbspDownload the PDF from VitaminDWiki
Images include the following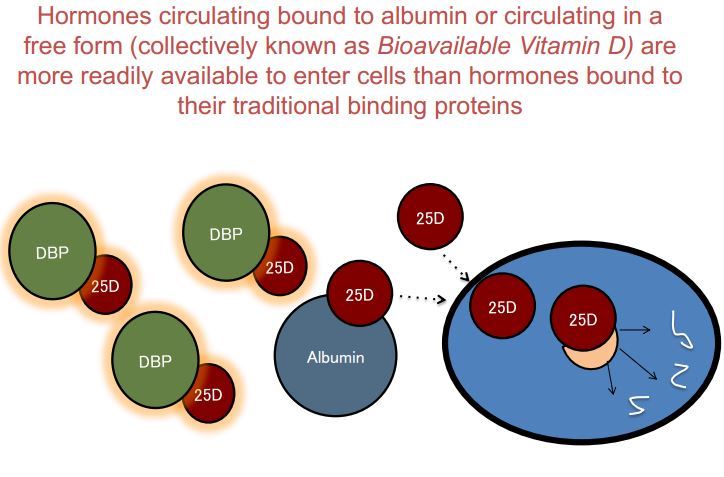 ---
Related publication by the author - which has some of the same charts
24,25-Dihydroxyvitamin d3 and vitamin D status of community-dwelling black and white Americans.
Clin Chem. 2015 Jun;61(6):877-84. doi: 10.1373/clinchem.2015.240051. Epub 2015 Apr 28.
Berg AH1, Powe CE2, Evans MK3, Wenger J4, Ortiz G4, Zonderman AB3, Suntharalingam P5, Lucchesi K4, Powe NR6, Karumanchi SA7, Thadhani RI8.
BACKGROUND:
24,25-Dihydroxyvitamin D [24,25(OH)2D] is a metabolite of 25-hydroxyvitamin D (25D). Blacks frequently have low total 25D without manifestations of vitamin D deficiency, suggesting that total serum 25D may incorrectly reflect vitamin D status in different racial groups. The ratio of serum 24,25(OH)2D to 25D [vitamin D metabolite ratio (VMR)] represents a new candidate biomarker for vitamin D status.
METHODS:
We measured 24,25(OH)2D3 and 25D3 by mass spectrometry in a random community cohort of black (n = 212) and white (n = 164) Americans to evaluate VMR as a marker for vitamin D status. We measured parathyroid hormone concentrations by immunoassay to compare VMR and 25D3 against a physiological indicator of vitamin D deficiency.
RESULTS:
Serum 24,25(OH)2D3 strongly correlated with 25D3 in both black and white study participants (r = 0.90, P < 0.001 and r = 0.86, P < 0.001 respectively). Blacks had lower mean 25D3 than whites [17.0 (7.8) vs 27.5 (11.3) ng/mL; 42.4 (19.5) vs 68.6 (28.2) nmol/L, P < 0.001] and lower mean 24,25(OH)2D3 [2.1 (1.3) vs 3.6 (2.0) ng/mL; 5.1 (3.1) vs 8.7 (4.8) nmol/L, P < 0.001]. In contrast to total 25D3 concentrations, mean VMR values were similar in blacks and whites [11.9 (4.0) vs 12.5 (3.4), P = 0.16, respectively] and were negatively correlated with parathyroid hormone concentrations in both races (rs = -0.26, P < 0.001, and rs = -0.25, P < 0.001, respectively).
CONCLUSIONS:
Our results provide further evidence that measurement of total 25D for assessment of vitamin D status in patients of African descent deserves reevaluation and suggest that alternative measures such as VMR should be considered.
© 2015 American Association for Clinical Chemistry.
PMID: 25922442
&nbspDownload the PDF from VitaminDWiki
---
---
"The issue is binding proteins come in different genetic variations, and the test Powe used doesn't measure well for a type of protein that is common in blacks. The test's poor sensitivity to this type of protein led to the erroneously low results."